Upstox Referral Code: Even though the overall literacy rate of Indians is 75%, if we look into their financial literacy then it's only 24%. As a result, we often see that majority of people are scared to invest in the stock market due to no or poor knowledge. Platforms like Upstox are trying to increase the number of new traders by introducing one of the best referral programs ever seen. For each successful referral, you can earn a total of Rs. 1200 (Rs. 800 when your friend successfully opens a Upstox account + Rs. 400 when your friend places his/her first trade).
And your friend gets a Demat and Trading Account with brokerage credit of Rs. 1000, with free access to all new Upstox app. Isn't it quite a good motivation for an individual to start trading? So, let's first understand what is Upstox, and then we'll go through the steps to create an account in Upstox and how to share the referral code/link with your friends.
About Upstox
Founded back in 2009, Upstox is an online investment brand of RKSV Securities, headquartered in Mumbai, and is the second-largest discount broker while considering its active customers. With Rs. 0 brokerage while investing in IPOs and Mutual funds, Rs. 0 AMC charges, i.e., no charges for maintaining the Demat account, Rs. 20 brokerage while trading in Equity, Currency, F&O, and Commodity and with only Rs. 249 account opening charges. Upstox is an easy-to-use, fast and secure trading platform with a simple and paperless account opening process that provides financial data, charts and news to help traders make informed and intuitive investing.
Join Upstox and Get Rs. 1000 Now!!
Join Upstox to get brokerage credit of Rs. 1000 and refer your friends to get additional Rs. 1200 on each referral. Let me guide you through the simple steps to create an account in Upstox.
Step 1: Click on the link below to open the Upstox Signup page.
Step 2: Enter your mobile number and verify the OTP. Next, enter your email and verify the OTP.
Step 3: Fill in your PAN card number and DOB and click next.
On the next page after answering questions like gender, marital status, etc and click Next.
Step 4: Now the screen shows that you have a chance to win free stock. Therefore select the "Yes! I want a free stock" option. It will confirm some of the details extracted from your PAN card.
Step 5: You'll have to digitally sign to proceed to the next step. They will ask you for camera access to take your photograph. After clicking your picture you can preview them and if everything is alright then click next.
Step 6: Fill in your bank account details and click next. Remember that you can deposit and withdraw money only using the bank account whose details you have provided here.

You'll be asked to do a one-time payment for account opening, i.e., Rs. 249 (+ GST). Complete the payment via UPI, card, net banking, etc.
Step 7: You'll be asked if you'd like to activate F&O, commodity and currency segments.

If you are a beginner, then you are suggested not to go for this option. Once you are experienced enough, you can enable this option whenever required. On clicking the next option, you'll be asked to e-sign with Aadhaar or PAN card.
Step 8: After you accept the terms and conditions and e-sign with the suitable option, your application will be submitted for verification. You can even track the status of your application.

The verification process takes around 24 to 48 hours. After the verification of your application, your account will be activated. you will receive your sign-in credentials to the registered email address.
Refer Upstox and Earn Rs. 1200 in Bank account
Upstox has an awesome refer and earn program through which you can earn flat Rs. 1200 for each referral that too in your bank account. It's a very easy procedure to refer Upstox to your family and friends. You just have to follow the steps provided below:
Step 1: Open the Upstox app and log in using your credentials.
Step 2: Click on the Account on the bottom navigation and go to the "Rewards" page.
Step 3: Click on the "Invite friends" button. You can select different options like WhatsApp, SMS, email, etc to share your referral link.
Step 4: Once your referred person activates their Upstox account, you will get Rs. 800.
Step 5: Next, as soon as the referred person do his/her first trade, you will get additional Rs. 400. There is no minimum amount for first trade. You can suggest him/her to buy cheap shares like of Yes bank which only costs 12-15 rupees.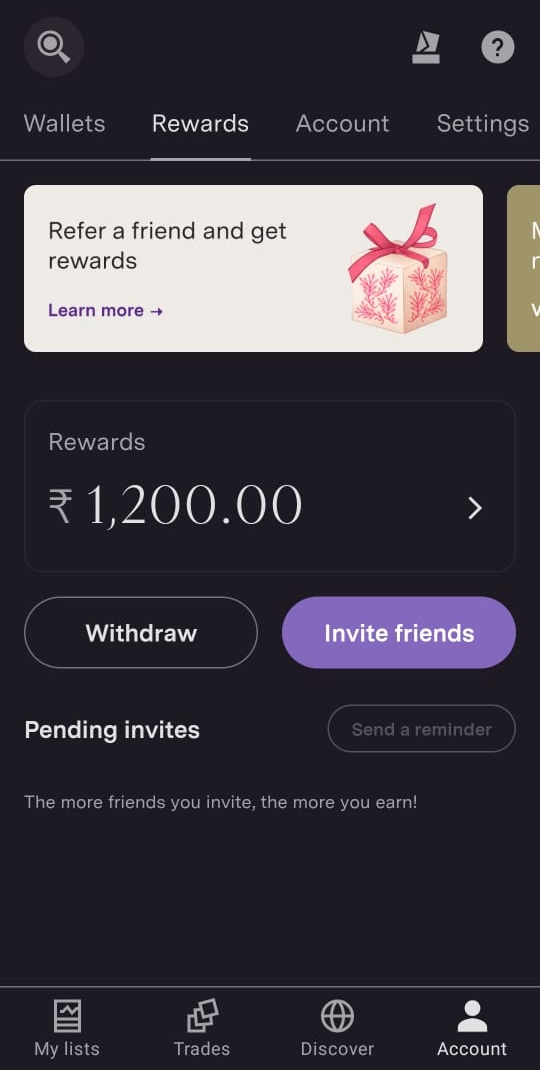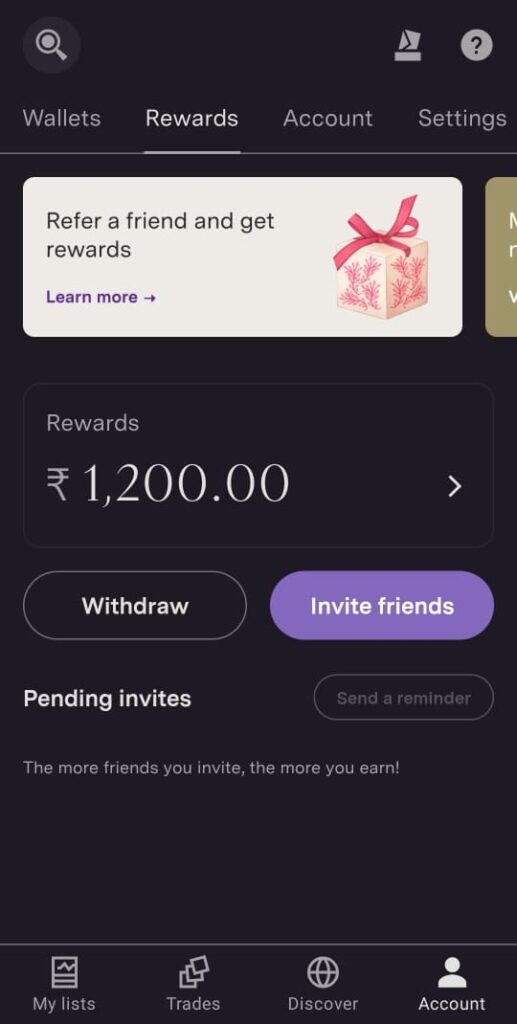 And it's done!! You can get the complete amount in your bank account by clicking on the 'Withdraw' button.
Now that you have all the necessary knowledge about your Upstox account, enjoy its low-cost trading services and have access to multiple segments including F&O, commodity and currency along with the awesome refer and earn program.

In case something changed your mind and you want to go with some other brokers like angel broking, Zerodha, etc. Visit this post regarding angel broking to all about it.