Many apps start there refer and earn programs to grow at a fast pace. But sadly, only some of them, rewards a good amount of money for their referring users. Angel Broking is one of the few apps. Angel Broking rewards its user's Rs. 750 gift vouchers of famous companies like Amazon, Flipkart, Uber, Book my Show. etc for referring it to others. Sounds good? Yes, it is!
Currently, Angel Broking is also offering Rs. 250 gift voucher to its new signup users.
Before going into its signup process to earn Rs. 250 gift voucher and refer and earn procedure to Earn Rs. 750 gift vouchers for each refer. Let's first briefly know about the company. So that you don't have any trust ambiguity for Angel Broking and its refer and earn program.
About Angel Broking
Angel Broking is an Indian Stock Brokerage company founded in the year 1987. The headquarter of the company is located in Mumbai, India. This company is an active member of  Multi Commodity Exchange of India Limited (MCX), National Commodity & Derivatives Exchange Limited (NCDEX), National Stock Exchange of India (NSE), and Bombay Stock Exchange (BSE). Angel Brokers consist of around 8500 sub-brokers and franchises outlet in more than 900 cities, distributed all over India.
Join Angel Broking & Get Rs. 250 Now!!
Join Angel Broking and get Rs. 250 gift voucher now and refer your friends and family to get Rs. 750 amazon/Flipkart gift voucher.
Below are the easy steps to join angel broking:-
Step 1: Click on the below link to go to Angel Broking Registration Page
Angel Broking Referral Code: S336755 (if you go through the above link, it will be prefilled)
Step 2: Fill your name, mobile number, city, and verify OTP. Then click on "Take me ahead"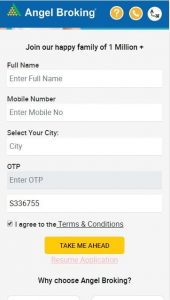 Step 3: Next fill your email,  DOB, and Pan Card number. Enter everything correct as it will be verified in later steps
Step 4: Upload your Pan Card and Canceled check image
Step 5: Then it will take you to the Official NSDL website to verify your Aadhar OTP.
Step 6: Now, you just need to download their app from the play store and login into it. The user ID and password will be sent to you via email.
This sums up the signup process of joining Angel Broking. Now read the below steps to know how to refer it to your friends and earn Rs. 750 gift voucher for each referral.
Refer Angel Broking and Earn Rs.750
Referring Angel Broking to your friends and family is easy. Just follow the below steps to do it.
Step 1: Log in to the angel Broking app using your user id and password that you got through email.
Step 2: Click on three lines on the top left corner of the app and select Refer n Earn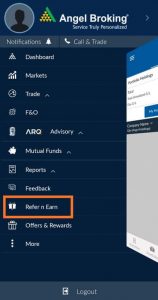 Step 3: Scroll a little and enter your user id in section saying "Enter client id or registered mobile number"  to generate your unique referral link. See the below image
Now, Done!
Just copy your referral link and share it with your friends and family for getting Rs. 500 gift voucher for each new joining.
Note: Your referred friend or family must need to login into the Angel broking app within 7 days of joining, for a successful referral.
So friends, I hope this article on Angel broking refer and earn brought some benefits to your life. Also, read our other article, with which you can earn up to Rs.10000 per week just by sharing product links.
Angel Broking offers services like portfolio management, mutual fund, Equity trading, Depository services, Commodities, Health insurance, Life insurance, Stockbroker, IPO, and many more. Nowadays angel brokers have curbed their mobile apps with a machine learning technology called ARQ. It helps users by giving personalized investment advice to get better returns on their invested money on stokes.
Thanks for reading. Also, subscribe to our youtube channel for getting instant offer updates.