Hello folks, I hope you all are doing well. Today I'm here with another informative post about, how you can transfer your Payzapp wallet balance in your bank account without any charge or a very minimal charge.
Payzapp is an online digital service provider app powered by a famous bank called HDFC. Payzapp has integrated UPI services and other regular services like DTH recharge, mobile recharge, etc. The most exciting part is that it provides a virtual debit card too, which can indeed be used as a one-click payment source in many apps like ola, also widely excepted at various online merchants with many opportunities to earn cash back.
What is the need?
Every month Payzapp provide lots of offer through which we can earn lots and lots of cashback, but not all good. As we all know, nothing comes without a price. And the price here is that whenever you receive a cashback through Payzapp it only get credited into the Payzapp's wallet itself, not into bank account like in case of Google Pay. As a matter of fact, Payzapp provides limited service to do transactions through its platform like DTH recharge, Mobile Phone Recharge, BookMyShow, etc. which are not enough. Many of us will be happier if the cashback gets credited directly into our bank account, where money has an infinite number of possibilities.
But don't worry, we got your back here! In this article, we are going to show you some proven techniques through which you can get your Payzapp wallet balance into your bank account without any charge. So, without further delay let's get started to know the methods to Transfer Payzapp money into bank account:-
Techniques to transfer Payzapp money to the bank account
Using Paytm Wallet
In this method first, you simply need to proceed to add money into your Paytm wallet. Select the amount equal to the balance of your Payzapp account that you want to transfer then move forward towards payment page. On the payment page, you need to select the debit card option. Put the details of the debit card you get from the Payzapp app. Click proceed, and Then it will going to ask you your Payzapp wallet pin, fill it, and confirm it. Now guess what, Hurry you just completed the major part now.

Now, since you have all your Payzapp money into your Paytm wallet, you need to find a Paytm merchant account holder, which is an easy task as many of us have one own. Just transfer the amount by scanning their QR and tell them to send to you as soon as they get the amount into their bank account. And Voila!!
Using Bhim Yes pay
This method is a chain kind of method, in which you transfer money from one card to another

First, you need to download and install the Bhim Yes Pay app. If you don't have, download it by clicking here

Do the initial signup, verification, and complete the KYC procedure. Setup UPI if you want

Here in this app, you will be given a debit card just like the Payzapp one. But, the difference is that it is accepted in all kind of payments, even while adding money to your bank account too. You must read: ₹ 150 Amazon/Flipkart vouchers FREE every month

As you might have guessed you just need to add funds into the yes pay wallet using your Payzapp debit card, then add that money into your desired bank account using the Yes pay debit card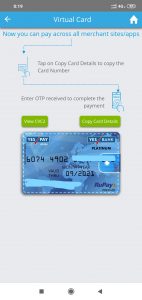 And here you are, you got the money into your bank account from your Payzapp wallet. HURRY!! PARTY!!
Using Payzapp itself
Payzapp itself does provide a service to transfer its wallet balance into your bank account like in the case of Paytm Wallet, but the major problem is that it takes a sum of 2.5% of the transfer amount as transaction charge for transferring money to the bank account, which is not desired by many ones.

Try this method only if you don't have any other option to go with also you need to have full KYC in Payzapp for this
Final Words
Hope you guys like this article, let us know if you have any questions or suggestions through the comment section below.
You may also like: PayPal Bumper offer