tiktok is a short video sharing social media of Chinese company ByteDance. Recently, It suddenly gets famous on various news channels and other social media due to controversy between Youtube and Tiktok. This controversy Youtube Vs. Tiktok is coming from a long time but, then suddenly, it got spiked when the famous youtube carryminati (Ajey Nagar) made a roasting video on this topic.
The video by carryminati was released on 8th May on youtube. Just after release, It got huge popularity over youtube and other social media. Many hilarious memes have been made on this topic as well.
But, The sad incident happened when youtube removed the carryminati's video due to massive reports by the TikTok community. Below is the roasting video by carryminati titled YOUTUBE VS TIKTOK: THE END, in case you are wandering.
https://www.facebook.com/1909785712422761/videos/3020133694728894/
This video by carryminati on TikTok roasting had crossed around 70 million views on youtube. And a plethora amount of likes to become the most liked non-musical Indian Youtube video.
CarryMinati has over 17 million subscribers on youtube which made his channel, one of the topmost subscribed Indian youtube channel.
Why tiktok rating is Falling Dramatically?
Soon after the removal of the video from youtube. The fans of carryminati become so angry that a tiktok opposing storm has exploded over Twitter. According to carryminati fans, the video was harmless humor and not intended for any personal or professional loss. Hashtags like #JusticeForCarry, #BanTikTok, #RoastNahiFryKarunga are trending on twitter.
Not only this many famous actors and influencers also came in support of carryminati. Famous TV actor Himansh Kohli (Lead actor in TV serial Shakitimann) has taken his steps forward to support carryminati. He said that the video was just for humor and fun. He also encouraged YouTubers like carryminati to keep the good content ahead and coming.
Between all of this who knows where it will take tiktok to? Now due to the huge 1-star rating of the tiktok app on Play store, its rating got dropped to 2.6 from 4.6 in the past 2-3 days. Many people also urging others to uninstall and report this app as they are doing.
The same happened with the TikTok Lite app. TikTok lite app has a previous rating of 4.5. Now it is dropped to 1.3 on google play store.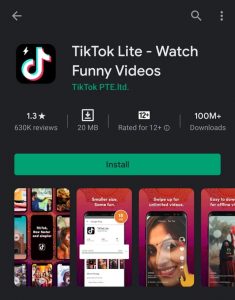 People adding, TikTok is a Chinese app and we should ban it in India. In accordance to support youtube content creators and Indian app platforms.
Some TikTokers who recently migrated to youtube are being disliked massively. In an effort to make their videos the most disliked one, people visiting their youtube channels and disliking all their videos.
Surely as you can guess, this controversy Youtube Vs TikTok has taken a face of war over the internet.
Food For Your Thought
Also Read Our Other Hot Posts on TikTok:-
Thank You! I hope you liked this article. Fell free to leave a comment or opinion in the comment section below.
Have a nice day. Stay Home Stay Safe!