Cryptocurrencies like Bitcoin, Etherium, Dogecoin, etc are on the boom for the past few years. Many governments and private agencies are using them as a replacement for traditional money. That is why people are very optimistic about cryptos. So, they are purchasing and holding more and more. But, these days a new concept of quantitative trading is emerging. The popular app Royal Q(also known as Royal Q bot) is the first one to provide quantitative trading and get a lot of traction. So, after using it for around 4 months, I'm going to give you my honest royal q review and opinion.
Many people are using Royal Q to grow their investment and some are working on it as a part-time job. But, the question is, Do Royal Q really worth the attention? Is royal Q safe? So, tighten your seat belts because I'm going to clear all your confusion in this post titled Royal Q review. Let's start with knowing about the Royal Q company.
Royal Q Company's Background
The formal name of Royal Q company is 'Royal Quantify Investment Management Co. Limited'. The company is first incorporated in china But later shifted to Singapore, Malaysia. The company formally got registered to government authorities early this year in April 2021. Currently, they have around 200 working staff in their Singapore master branch. After a good expansion in Asian countries, Royal Q has recently announced to expand their operation in European countries as well.
The company Royal Q is currently free from any debt and has a positive cash flow and profit. Due to its multi-level marketing strategy, Royal Q is rapidly growing without much direct advertisement. So, the company is in a very good state and seems to remain as it is in the upcoming decade as well. royal q app has a 4.6 rating on the play store. Hence, The Royal Q company can be trusted.
How Royal Q Trading Bot works?
In most simple terms, Royal Q bot buy-sell cryptocurrencies on your behalf by connecting with your crypto exchange account. Currently, Royal Q supports Binance and Huboi global exchange. So, to make royal q work, you need an account in any of the two exchanges. Royal Q connects with your exchange account(Binance or Huboi global) via API. User needs to set the strategy of trading on the Royal Q app and the bot will do the trading based on the set strategy 24*7*365 non-stop.
Based on market trends, the app recommends strategies to the users. Also, there are lots of circles(groups) available in royal Q, which users can join and sync the strategies in return for one or two per cent profit. So, user can set their own strategy, use the app's recommended strategy or use the circle's strategy. A user can also modify the strategy or stop it at any point in time. After purchasing the bot for a year, there is no limit on the amount on with the bot will trade. Users are free to invest as much amount as they want and gain as much profit they can.
Royal Q Bot Pros and Cons
For a good understanding of an app, it's necessary to know both the positive and negative sides. So, after discussing the Royal Q company and knowing about how Royal q works, let us now jump into the main thing that is Royal Q bot pros and cons.
Pros of Royal Q Bot
Let's see the pros of Royal Q.
Automated trading 24*7
Based on Martingle principle – a genius principle for profitable trading
Many ways to set staretegy
Simple and easy to operate
One time fee and no limit on investment & profit
Funds are safe in exchange account(Binance or Huboi)
Powered by artificial intelligence
Awesome referral program
Cons of Royal Q Bot
With a lot of pros, Royal Q has a few cons like everything. Let's see the cons of the Royal Q bot.
Server sometimes crashes
Slow customer support
A bit old style app UI
Is Royal Q Safe?
After knowing Royal Q from its roots, understanding its working and using it for quite a while, I think Royal Q is a safe application. I would like to present the below points to prove my point:
Your all funds are stored in exchange account(Binance or Huboi global) not in Royal Q wallet
Royal Q connect via API with the exchange account. Far better than sharing username and password for connection
Royal Q only take read and trade(buy/sell) permission. No transfer or withdrwal permission are taken
It only sell your crpto if their is a profit, else hold it
Do not touch your crypto intented for long term investment. It only trade on its own bought cryptos
Trade only on good coins
Very good user rating and reviews on play store(4.6/5) and app store(4.8/5)
I think the above reasons are good enough to trust royal Q.
My profits from Royal Q
After using the Royal Q for quite a time, I would say I have quite a good amount of money or profit. I also checked accounts of many royal Q users and came to the conclusion that, with Royal Q, it is very possible to get at least a 15% return on the investment per month. Below are a few screenshots of the Royal Q profit page, with the investment amount and number of days the amount was invested from.
Some more profit screenshots from the people I know are given below. Each screenshot along with today's profit and cumulative profit also contains the invested amount and time duration of the investment.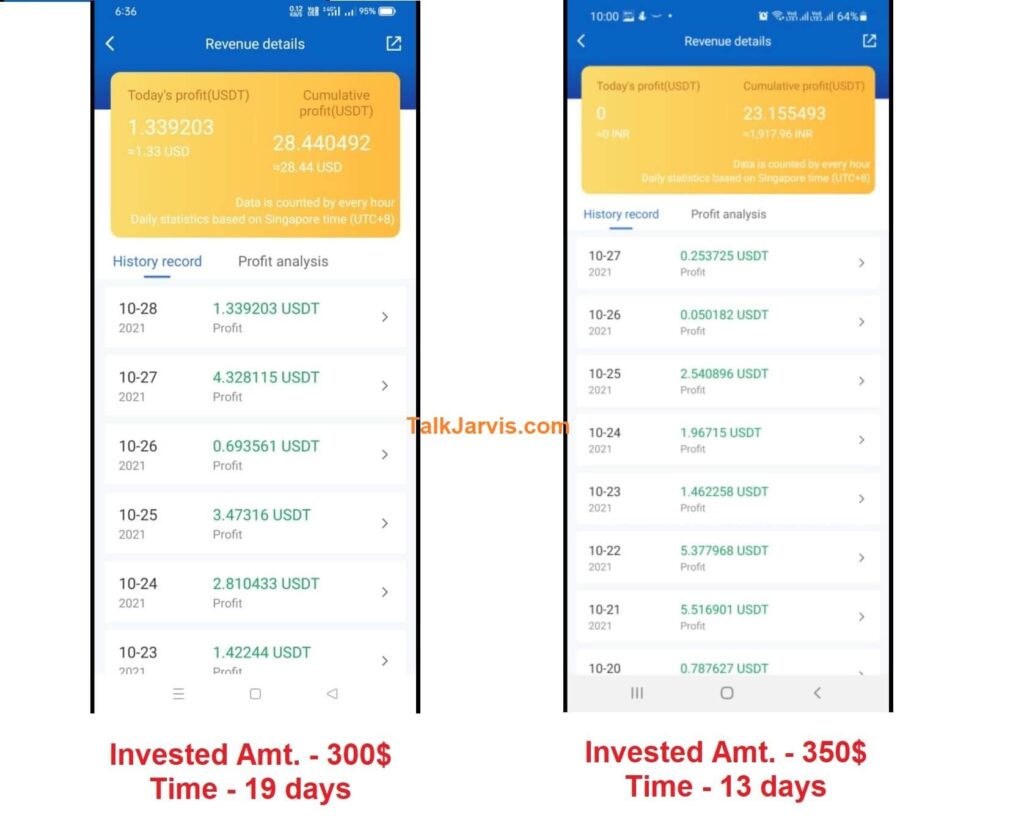 So, If you are convinced about the safety and profitability of the Royal Q bot, then below are the easy steps to join Join Royal Q and start making some handsome amount of money on your investment.
how to Join Royal Q? | Royal Q invitation Code: NBQEP
If you have decided to join royal Q and make your money work harder for you, then follow the below easy steps to register on royal Q.
Step 1: First, you need a Binance or Huboi global account. Create a Binance account by clicking the below button
Stuck? Read this: Steps to Create Binance account
Step 2: Complete KYC of Binance account to make your account verified
Step 3: Now, Register on Royal Q by clicking the below button
Note that the Royal Q invitation code should be filled: NBQEP
Step 4: Download the Royal Q app from the play store & login
Step 5: After log-in into the app, you need to activate the bot by paying a fee of 120$
Load at least 130$ in you Royal Q account($120 for activation and $10 for fuel )
Step 6: Connect Royal Q with Binance account via API.
tutorial: https://youtu.be/XwEuQncLZ7w
Now, you are done and ready to roll. Just add funds in your Binance account in USDT form and come to the royal Q app, select a coin & strategy and start the bot. The Royal B bot will do non-stop trading on your behalf gaining profit.
For more guidance and help, I recommend you to join our 'RoyalQ Avengers' WhatsApp group: Royal Q Whatsapp Group
For detailed steps of Joining Royal Q, read this: How to join Royal Q?