The 21st century has seen several advancements in technology and science. Today, we can talk face-to-face with people sitting miles away via the internet and video calls. We can reconnect to our friends with whom we were in contact with 20 years ago with the help of social networking websites like Facebook and Instagram. There are many businesses that run completely online. People can invest in stocks now sitting from their homes. Companies like Flipkart, Amazon, Myntra now give us the luxury of ordering and fulfilling our needs from our homes. Social media particularly helps us in connecting with people and sharing our views with a wider audience.
Impact of Social Media on Our lives
However, social media has its downfalls also. The fact that it gives us so much freedom and the internet is liberating also makes us vulnerable to fall to the traps of deceits and cheats. A lot of instances have been seen where people have taken drastic steps after reading false, aggravating information or fake news online. "You repeat a lie several times and people will believe that it's true." Cyberbullying is dangerous and it can threaten your lives. For example, someone threatening to make your private images public and ruining your name.
There have been cases where entire political campaigns have been smirched with the use of social media like the 2016 American presidential elections. Studies claim that Hillary Clinton was leading in the exit polls but in the end, Donald Trump won the elections by an astounding margin which was shocking and people suspected foul play. As you can see how fake news can affect people in making choices and then the leader of the economically strongest nation in the world can be altered.
Impact of Fake News
Fake news or spreading false information in today's world is very easy due to the advancements and freedom of speech that the public has. We live in a fast-paced world and very rarely do we verify the facts presented to us online. Facebook, Whatsapp, Instagram, Twitter, Snapchat, etc there are so many places from which you can get influenced. A lot of content is shared via images and memes and we do not realize but these subtly change our views, especially the views of the youth who are vulnerable. Many people don't even read the complete article and leave it at the headlines(known as 'click baits') and due to this short attention span, man can be influenced easily.
We have a very short attention span and forget things quickly. Thus, we have a tendency to make any outrageous news article viral as soon as possible. The more 'masala' a news item has the more probable it is that people will share the item. Many times people spread false information and by the time it is recognized or discredited severe damage has been done. Despite laws existing against defamation, fake news items disregarding an honest person's efforts are more common today than 5 years ago. People form an impression by reading a piece of fake news and judge the person without caring to check their facts.
Obviously many fake news don't inform the news that they are false. A lot of websites exist out there on the web which can be called fake news sites. Many satirical sites exist which make funny or spoofs on news items. There has been an increase in the number of such websites for the past few years. many websites do not claim that they are satirical and add to the readers' confusion. When a person actually goes through the news item he realizes that it's fake but many people have the habit of just reading the headlines or the name of the article and share it.
Fake news has an impact on the stock market also. In 2013, a fake tweet regarding President Obama led to 130 billion dollars being wiped out in seconds. Experienced investors won't fall prey to fake news but the new investors who are dealing with penny stocks can be affected seriously. Fake news about a company can lead to its shares being diluted in a day and it losing its spot in the market. However, the impact on the stock market is not as drastic as was seen in the 2016 presidential elections.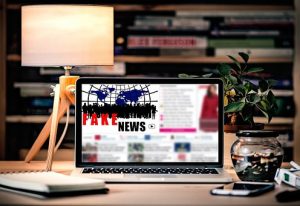 Fake news can affect people drastically. It can add to anxiety and divide workplaces and lead to unnecessary fights. You can be distrustful of your fellow workmates and it can also spoil your reputation. People will stop being curious and enthusiastic and will avoid interaction with others.
Fake news is not so uncommon on news channels. These channels are biased towards a particular view and generally manipulate their viewers into believing the view blindly. They sometimes don't present the complete truth and it stays in our brain when such things happen.
How to Detect Fake News?
So, now you understand the impact a fake news article can make on our daily decisions you would want to know how you can spot whether the news is fake or real and how you can lodge a complaint. Don't worry or get frantic! We will be telling you all about it. Just read on to find out interesting facts and ways to fight against fake news.
Before posting or sharing any interesting story or news item you should always check its credibility. It may seem confusing about how you can spot a piece of fake news and distinguish it from real news. Given below are a few ways you can work your way around news articles to find out which are real and which are just spreading baseless controversy.
Checking the source of the news item

If you come across a suspicious news article check out the source always. If the website has weird extensions like .infonet, .info instead of .org or .com then its fishy and you should definitely report it. Also, if the extension seems okay, you should check out the website's general perception and whether they are biased or not. For example, Indian News channel the Republic News is publicly biased towards the Bhartiya Janata Party(BJP) and can alter views of people. You can use the website Snopes.com to scoop out real news stories.

Check whether other people have reported the article.

Many times fake news articles have been reported by other sensible people. You should not assume that every article is fake. But you can begin with reliable sources like Reuters, BBC and CNN. But even they can have biases and its important for you to form your own views.

Don't believe images directly

In several instances, images are photoshopped only to create controversy and they are false. They are used to spread mass hysteria among the masses. Jagged edges or weird shadows can point towards the genuinity of the image.

Build a Critical Mindset


Fake news items are controversial yet believable. It won't be something absurd like aliens attacked New York but it can be "Flying saucer spotted in the skies". It makes one want to go and read it but you have to develop an analytical sense so that you don't fall in the trap. Ask yourself whether the story has been written specifically against someone or something and will it alter your views? If not, then it's probably not fake.

Google about it
One source of news may be fake but not all! If you come across a suspicious news article or post, just google its main keyword or headline. Read what other news websites are telling about it. Most of the time, if the news is true then you can find similar articles on other news sites too. If not then the news is probably fake or misleading.
Recently, WhatsApp has become the number one source of spreading fake news and propaganda. So, be careful with every Whatsapp message related to any news or information. Must check it's credibility and source before forwarding it. Most of the time fake news is highly positive or highly negative about a person or product.
Moreover, for graphical examples, You can watch the below video by Dhruv Rathee explaining how to spot or identify fake news in Hindi:
How to Lodge Complaints Against Fake News?
So, what do you do after identifying a fake news article while scrolling your social media wall? Fake news spread false information and the more captivating they are, the more they are shared. You can lodge a complaint against fake news by –
Generally, an article on Facebook or a news item on Instagram has an option to Report. You should click on the Report button following which you will be presented with options asking for reasons of you reporting the article. Some options are "Spreads communal hatred, obscene content, hurts my feelings and harm community feelings".
Commenting on the article



If you are not able to find the report button, then you should at least comment on the post informing other users about the fake news article so that people don't blindly share it. In this way, you will be

curbing the spread of the article.

Reporting the source

Generally, after clicking the website you are redirected to another website that has the fake news article. You should find an option in the google chrome drop-down menu to report the website. You should do this so that people don't spread hate or hurt others by sharing this fake article.

Fake news complaint number

You can use the following contact numbers to report a fake news article.
Whatsapp Number – +91 8950000946
The number for fact-checking – +917600011160
Round the clock number – +91 454457953, +91 9071666667

Fake news on the media

If it's fake news by any news channel or public media then you can report the matter to the Press Council of India. They have proper guidelines on their website on ways to lodge the complaint. You are supposed to send a letter to the editor of the newspaper or media channel first. Thereafter, if you do not receive any word from the editor you are supposed to approach the Press Council of India.

Complaint to Delhi police
If you a resident of India. Then there is good news for you. Recently, the Delhi Police has launched a fake news verification portal on their official site delhipolice.nic.in. Here you can submit the post or news article that you think is fake for verification and necessary action. It is indeed a good initiative by the Delhi police.
Punishment of Spreading Fake News
Distributing fake news can cause panic, hate, violence, or even blacken out one's reputation. Many mob lynching incidents were reported from different parts of the country as a result of the spreading of fake news via social media platforms like Facebook, WhatsApp, Twitter, etc.
Although at present India does not have any specific laws against people who spread fake news, many countries like China, Brazil, Cambodia, Egypt have taken steps to prevent it. In order to nip the fake news in the bud, these countries have made certain laws which penalize not just the content creator but also those who spread these fake news and the extent of the penalty varies according to the damage that was caused by the false content.
Germany has implemented the law titled 'Netzwerkdurchsetzungsgesetz'(NetzDG) which states that the online platforms should remove the illegal fake post within 24 hours or should risk a fine up to 50 million euros. In Indonesia, a bunch of people was arrested for spreading false information on online platforms. The minimum sentence "under a 2008 law"
is four years. In Sri Lanka, the felon can be charged the fine up to $5667 or can be sentenced 5 years in prison.
Indian Government is currently considering creating legislation that is aimed at punishing the offenders for spreading fake news. West Bengal officials clarified that an individual can be jailed for circulating false information which can cause panic among the public. More than 100 internet shutdowns were reported in India in the past few years to prevent the spread of fake news in WhatsApp. These laws are enforced in order to create awareness about the harmful effects caused by the spread of fake news.
Good Source of News
I am sure your head must be spinning right now seeing all the disadvantages of fake news and how easy it is to get manipulated in the social world. Well, we have got a list of websites you can use to get reliable news about the latest happenings in the world with very less bias towards one community.
Reuters.com
BBC
CNN
Agence France-Presse news service
Al Jazeera
The Economist
The Financial Times
The Wall Street Journal
The New York Times
The Associated Press
The Atlantic
Forbes magazine
In India, it seems almost all the media houses are biased. However, The Hindu and The Indian Express stand out and are less biased towards a particular opinion or view.
We hope the above article helped you gain insight into social media and the various ways in which fake news can affect our lives. We have also tried to cover the various ways in which you can detect fake news articles on the web and then lodge complaints against it. Finally, we have informed the readers about the various punishments doled out for spreading fake news and also reliable news sources they should be using to stay updated about the world.