12 percent club referral code | Bharatpe 12 Percent Club Referral Code: Hello guys, today I bought information about one of the best investment apps that everyone is talking about. Initially, 12 percent club came with the name just 'BharatPe'. But the investment service of this app become so popular that the parent company launched the service as a new app called 12% club. In this post, I will tell you the 12 percent club referral code and take you through its entire joining process.
12 percent club by BharatPe is mostly famous because of its service that is providing 12 percent interest on your deposited money. No hidden charge, no joining fee nothing at all. This app also provides a money lending service. The app lends money to people at a flat rate of 12 per cent interest per annum.
About 12 Percent Club App by BharatPe
12 percent club is a new app launched by its parent fintech company BharaPe. The company BharatPe has partnered with various NBFCs (Non-banking financial corporations) that are RBI approved to provide this investment and lending services. Recently BharatPe got a lot of funding from national and foreign investors. The current valuation of BharatPe is 4 billion dollars. The overall user rating of BhartPe is good. This certainly means that the 12 percent club by BharatPe is a good app to store your saving and gain the highest 12 percent interest. Some unique benefits of the BharatPe 12 percent club app are:
Industry's highest interest rate on investments -12%
Intrest deposited daily
Withdraw money anytime, any amount and that too without any charge
No joining fee and no hidden charges anywhere
Start inveting with just Rs.1000
Join 12 Percent Club App and Earn 12 Percent Interest!!
It is clear that the 12 percent club by BharatPe is a safe and secure app to store your money and earn the highest interest rate of 12 percent. Now, let's go through its joining process.
Step 1: Click on the below button and download the 12% club app from the play store/app store
Step 2: Enter your mobile number and verify OTP
Step 3: Now click on 'verify KYC'
Step 4: Link your bank account and perform the Digi locker verification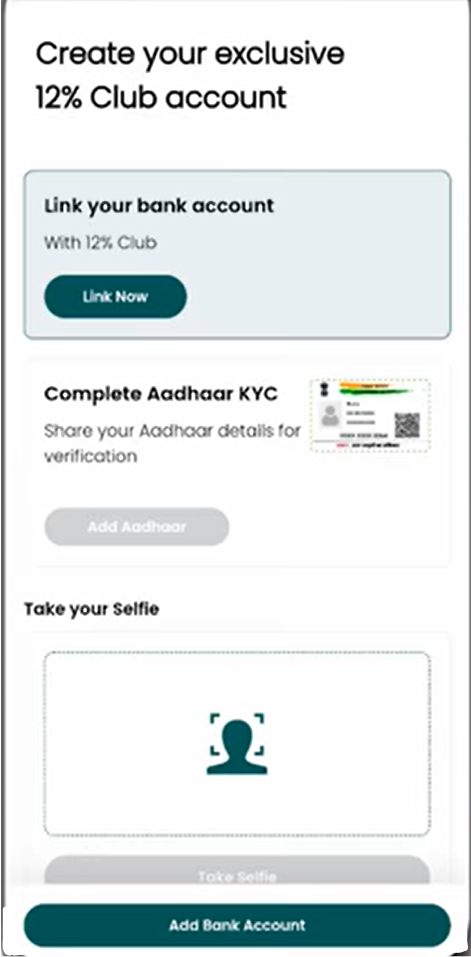 Step 5: Click a selfie then proceed to the Terms and conditions page
Step 6: Accept T&C and verify OTP
And done!! Just wait for a few hours to get your KYC approved. After which you can invest as low as Rs. 1000 to gain a whopping 12% interest per annum. The interest is earned and deposited on a daily basis that too you can without and reinvest anytime.
This sus up the 12 percent club joining process. Now let's talk about its one of the best refer and earn programs.
12 Percent Club Refer And Earn Flat 10%
The BhartPe's app 12 percent club not only has the best investment offer but one of the best refer and earn programs. With 12 percent club refer and earn program you can earn a flat 10% of the interest earned by your referred person for lifetime.
Let's take an example before going to 12 percent referring steps. Suppose your friend downloaded and registered on 12 percent club app through your invite link. Now, he made some investments and earned a total of Rs. 1000 at end of the month. Then, you will get Rs.100 which you can withdraw in your bank account anytime. This process will be repeated every month.
Let's see how you can refer 12 percent club app to your friends and family and earn a flat 10% on their earnings for lifetime.
Step 1: Open the 12 percent club app
Step 2: Click on three lines in the top right corner
Step 3: Select refer and earn
Step 4: Now, just copy the link and share it with your friends and family
For each successful refer you will be going to earn a flat 10% on their earnings. So, try hard to share as much as you can.
Also Read: Join Angel broking Refer And Earn Rs. 750
Bottom line: 12 Percent Club Referral Code
So, guys, it's time to end this blog article. Hope you liked the content and joined the 12 percent club app to really multiply your money. If you have any questions or suggestions in your mind, feel more than free to comment below. Thank you very much if you read the article till this point.
I have been using BharatPe for 3 years. So, In the next post, I will be going to give you 12 percent club review. The review of the 12 percent club will solely be based on my experience with this app.