With the increase in crime rate and the violence carried out on innocent people and even people who have a lot of attention on themselves, security Guard has become extremely vital. Especially for people like celebrities, corporate officials, and politicians as they are always in the limelight and in the center for such crimes. To be sure that they remain safe and sound, it is important to have professional security services available. You can keep your building and premises safe and make sure no one enters, but you need to have a bodyguard 24/7 to make sure that you are safe and sound. 
To have a carefree sleep knowing that you are your family is in safe hands, you need to hire a reliable personal security that can offer you a good protection. People think that only celebrities need to have bodyguards as they are in the limelight, but many other people with different careers can also hire one if they feel they need to protect themselves and their families! 
A bodyguard is an important need as they can be your personal secretary, your spy, and your shadow. They can also help to locate any type of danger in advance and make sure that you are safe and sound.
They can also do an in-depth analysis and background search on anyone you are suspicious about. They also analyze the situation beforehand and get the best knowledge, so will know if there is any danger in that particular place or not.
They are also with you 24/7, so you do not need to worry about your safety no matter which part of the world you are in. 
Following are the types of people who need to hire a security guard to help protect themselves from any sort of crime and intruders: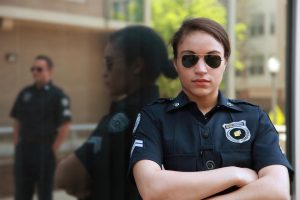 As they own such a big company which millions and billions of dollars at stake, they are often in the public eye. So whether they are traveling for any meeting or conference or going to any sort of function they need to hire someone to accompany them. There are often some employers who might attempt murder or kidnapping, so security guards handle all such situations. 
People who handle money and valuable jewels: People who transport money or jewels from one place to another are often the target of crime and theft. People might keep an eye on them and try to snatch money on whichever occasion they get. A security guard is going to nullify it and make sure you transport and handle everything safe and sound. 
People who are center of Attention: People who have recently won a huge lottery, witnesses to any sort of crime, or others might need to have some sort of private protection. As they are in the public eye, they are threatened in every way. A bodyguard is going to help you maintain secrecy and make sure you are well protected. 
Rich individuals: People who are wealthy or have acquired it by the family are always in the center of attention. Burglars and thieves are always on the look-out for such people and might want to enter their house any time. Thieves usually have an eye out on such individuals and their houses. There might even be people who do not like you and want to rob you of the wealth. 
Victims of any dispute: Several victims might feel threatened, especially if they are in between some sort of dispute. In such high emotions, people can also threaten and may cause harm to one another. In case of such conflicts, it is important to have private security, as not only do they avoid dispute but can also help the victim to feel safe and sound. 
Thus, private security may sound like a privilege, but in some cases, it is the dire need of the moment. There are plenty of companies and security services that can help you hire the best bodyguard you will need.