how to Set up Recovery Email For outlook | How to Set up Recovery Email For Hotmail: Outlook.com is home to Hotmail. To access your Outlook.com, and other Microsoft accounts, you require a password. However, if you forget your password, you need to create a new one. To simplify change in your password, you must add a secondary email address or phone number to your Outlook.com account so that you will be able to reset your password and access your account while maintaining your account safety.
How to Set up Recovery Email For Outlook?
In 2013, Outlook.com replaced by Windows Live Hotmail and it also replaced the traditional email features method. However, it is always advisable to add an alternative email address for the current webmail account such as Outlook.com or Hotmail. It helps users in gaining access to their account and also help in the password reset when they forget.
But why do you need to recover your email in Outlook?
This article will help you to set up your recovery email.
The security info is an alternative email or phone number contact that you add to your account. If you miss your password, or if someone else tries to take over your account, then an alternative email or phone number will be sent by Microsoft with a verification code. Then this verifies that it is you.
A outlook recovery email address makes it easier to modify your password and harder to hack your account. To validate your account, Microsoft sends a code to an alternative email address. When you enter the code then you allowed making changes in your account by including a new password.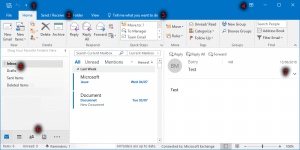 Manual Help For Recovery Email For Outlook
Users can read the steps below for the manual help. And the steps are given below:
Log in to a browser's

Outlook.com email account

. 

To open your

My Account screen

, click on your avatar or initials on the far right side of the menu bar.

Click the

Account view. 

At the top of My Account screen, click the

Security tab

. 

In the Update, Your Security Info area, select the

Update Info button

.

If requested,

verify your identity.

For example, if you have previously entered a phone number for recovery, you may be asked to enter a code sent to your phone number. 

Click on

Add security info. 

From the first drop-down menu, select an

alternate email address.
Enter an email address

to serve as your Microsoft account recovery email address. 

Click on

Next.

Then Microsoft sends a code to the new mail recovery address. You have to enter the email in the

Code area of the

Add security info window. 

Click on

Next

to save the changes and then add the recovery email address to your Microsoft account.
Verify that the recovery address of the email password has been added by returning your safety information section to the Update. You should also receive an email from your Microsoft email account that tells you to update your safety information.
Steps to keep in Mind regarding Password Creation:
Microsoft is encouraging its email users to use their Microsoft email address with a strong password. Recommendations from Microsoft include:

Always use a password that is different from others.

Always use a phrase or sentence including strings, special characters, numbers or symbols.

Don't use passwords related to your family names, your name, your mobile no., always avoid this type of passwords.

Don't use the same passwords for other email accounts.

Don't use a single word password.

Always use a password including a special symbol with character and also a few numbers.

Don't use common passwords like mobile numbers, 1234567, or abcdefg, etc.
Technical Help
For more information, search on google, and with the help of Outlook customization you can recover your email in Outlook, and also you can check blogs of Microsoft, or Cnet.
Conclusion
We're sure this article will assist you with email recovery importance in the windows outlook and why there is a need to recover your email. follow the above steps, after covering all the measures, you will be pleased and lastly, you will get the best outcome you want.