Hi fellas, Today we are going to tell you about something which you remember as worth knowing for the rest of your life. It is "The way to make any normal laptop touchscreen".
The Root of the Need
In this era of touchscreen phones and touchscreen electric inductions, we are going far to use button-operated things for getting our job done. We want any physical interactive electric thing to be the touchscreen for our usage. Laptops and computers are some of the most essential things for humans in the 20th century. Although our technology is making them touchscreen too, still they are very far from a common man's pocket. Touchscreen laptops are not economical for common purchases.
And some of them have to be much compromised in other aspects like performance, features, and processing. which does not make them a good choice at all. But here, don't be sad enough if you own a button-operated laptop although wished for a touchscreen one. We are going to show you an awesome way through which you can turn any laptop into a touchscreen laptop in no time, without spending much cash.
The Magical Way
Well, to turn any laptop into a touchscreen one is not magic or any software tuning, if in case you are wondering. But it a hardware component which you need to attach for getting the job done. This gadget is produced and manufactured by a famous optical hardware components company Neonode Inc They use a technology they call zForce (zero force) which is a web of light beams. So, without going into the technicality, let's come to the actual product we are talking about.
It's a Neonode AirBar touch screen enabler. Neonode AirBar can turn any laptop into a touchscreen laptop no matter how old it is, which operating system it is using, which window version it is running on. It uses infrared light beams to know where exactly you touched on the screen and let the computer do the job accordingly.
All you need to do is to purchase this product and attach it with your laptop as the way it is written in its manual. It comes with a wired USB interface, for now, hoping for its Type C and wireless interface versions in the future for its connection with the laptop. It is lightweight and portable can be carried with you wherever you want.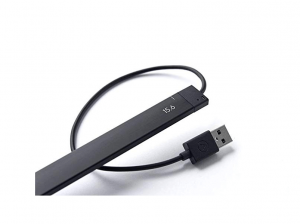 It is like a long bar of the length of your screen with two magnets in its back to set up. It sits at the bottom part of the laptop screen, held by the two magnetic points. The connection is made with the laptop via the wired USB cable, which we hope soon be replaced by a wireless connection like wireless mouses. And that done, Your laptop is now a touchscreen-enabled one. Easy to use and too accurate like a real touchscreen laptop. It comes for all types of screen sizes and for Apple Macbooks too.
Sadly this awesome product can't be bought from the local market if you are from India. But you can order it online and get it delivered home anywhere in this world, Thanks to online shopping websites. The product link has been given below.
Its cost starts around 100 dollars, which is quite expensive, but once you use it, you know it well deserves it.
With that being said, we are wrapping up this article on making a laptop touchscreen. We hope you like this article and the product. Note that the product is not at all sponsored to us. It is its usability that made us write this article. Do let us know your thoughts in the comment section below.