10 Best Hair Dryers in India 2021: Reviews & Buying Guide – In this era, where fashion is given so much importance, you might not want to lag behind others in your appearance. Appearance doesn't always mean your looks but the way you dress or carry yourself around. Your hairstyling is as essential as the outfit you choose to wear on a particular occasion.
Hair Dryer is an essential tool for those people who love to experiment with their hair. It not only blows your hair dry as soon as you move out of the shower but also helps you style your hair straight or curly. Be it your office or a pub; you need to make sure that you always have a perfect appearance.
You would want a Hair Dryer, which is gentle to your hair. In India, many Hair Dryer brands offer you different features, which makes it confusing to make a choice. So in this article, we are going to review some of the best hair dryer brands in India.
10 Best Hair Dryers in India 2021
[wptb id=6020]
1. Philips HP8100/46 Hair Dryer
Phillips is one of the most reliable companies in India. This Hair Dryer is extra gentle with your hair as it generates an optimal level of airflow, which gives you beautiful results every day. It allows you to switch between 2 heat settings for careful drying. The ThermoProtect temperature settings provide you additional protection from overheating by providing an accurate temperature for hair drying.
This light-weighted cleverly designed Hair Dryer with 1.5 meters long cord is easy to handle and convenient to store. It also comes with a 2-year warranty from the purchase date. It is also an amazon's Choice for Best Hair Dryers in India 2021.
Pros
Easy to handle
Convenient to store
Compact Design
Flexible settings
1000 Watt gentle drying
Cons
More extended usage can cause a burning smell
2. Havells HD3151 1200W Powerful Hair Dryer
Havells is one of the leading Indian companies, providing household solutions while maintaining the quality, making use of newer technology, and enabling a quick service. The HD3151 Hair Dryer is among the best hair dryers for women in India as it is more durable than other Hair Dryers, and it also offers a 2-year warranty. The honeycomb inlet at the back protects your hair from getting scrambled while drying.
It brings an appropriate balance between drying and styling, making your hair frizz-free. It can switch between 3 temperature settings, i.e., hot, warm, and cold, and with its help, you can get long-lasting results. The 1.6m long cord allows you to move freely while using it and is provided with the hook so that you can hang it on the wall or the cupboard after use.
Pros
Easily foldable
Honeycomb inlet to get a frizz-free hair
Detachable concentrator that helps you to style your hair
Double protection mechanism
Heat balancing technique
Cons
It is noisy while you operate it on a long run
3. SYSKA Hair Dryer HD1610 with Cool and Hot Air
Syska is another popular brand in India, which has maintained it's quality over time. Its foldable property allows you to carry it easily wherever you want. It utilizes 1200W daily to dry and style your hair. The low and high-speed settings will enable you to dry your hair conveniently.
The heat balancing technology, with two years of warranty, helps the dryer to distribute the hot air evenly over your hair. Its overheat protection feature prevents hair damage when excessive heat is released from the gadget.
Pros
Uniform accurate temperature which maintains the moisture content of hair
Instant heating and fast drying
Foldable, making it easy to carry around
High and low-speed settings
Hot and cold air blower function.
Cons
The cord length is minimal, which causes inconvenience to the user
4. Nova NHP 8100 Silky Shine 1200 W Hot and Cold Foldable Hair Dryer
This easy fold Hair Dryer helps you to get a salon styling at your home. This dryer comes with superior conditioning technology, which protects your hair while styling. It also has ThermoProtect temperature settings that maintain the shine of your hair while conditioning it.
The 1200 W Hair Dryer with 1.8 meters long cord comes with a 12 months warranty. Its compact design makes it easy to handle, and it also protects your hair from overheating as it comes with flexible heat settings.
Pros
Easy to store as it is foldable
Comfortable
Hot and Cold Feature
Ionic Conditioning
Cons
Operates with a comparatively loud noise
5. CHAOBA 2000 Watts Professional Hair Dryer
This is one of the best professional hair dryers in india. It has some unique features like a detachable concentrator nozzle that helps in straightening and styling your hair, and it is very affordable. It has hot and cold hair options that help in drying, conditioning, and styling the hair.
Its 2 meters long cord allows you to use the dryer in a very convenient manner. You don't even have to worry if you forget to switch it off as its overheat protection mechanism automatically turns it off, ensuring safety. Hence, we can say it is an impressive product as it blows your hair dry evenly that too, in a very professional manner.
Pros
Heat-shielding technology keeps the nozzle cool even after prolonged usage
Comes with 2-speed setting and 3-heat settings
Detachable back filter
Special Rubber Cable Protector which makes the cable durable
Removable nozzle to style your hair
Cons
Do not come with a warranty
6. Rozia HC8201 Professional Hair Dryer With Pro AC Motor
This device, with 1800 watt power, distributes the heat evenly and is easy to handle. It has many exciting features like a cold shot, slim nozzle, combine airflow settings, which makes the hairstyling very easy.
This hair dryer with a 1.8meter long cord has two speed and three heat settings, which increases flexibility while using it. It comes along with a one year warranty, and its ergonomic design makes it desirable.
Pros
Cool shot button to lock the moisture
2 Concentrator attachment is included
The hanging loop which makes it easy to store
Removable air filter
Cons
Quality is not appreciable
7. Wahl 5439-024 Super Dry Professional Styling Hair Dryer
This is one of the best hair dryers in India 2021, which is suitable for all hairs. This professional hair dryer comes with two concentrators and one diffuser, which makes styling of all types of hair convenient. You can even adjust the airflow rate and heat as per your convenience because of the flexible settings.
It comes under the category of a tourmaline hair dryer, which uses the negative ion and infrared technology. Its folding handle provides you with a grip that helps in the secure handling of the device. After drying, when you switch to the cold shot option, a cool stream of air flows, which allows you to style the hair and preserve its natural look. With all these features, with its durability makes it one of the best professional hair dryers in India.
Pros
Tourmaline Technology
Comes with a cold shot feature
Durable with two years of warranty
foldable structure
2000W AC power supply
Cons
 Expensive as compared to other hair dryers
8. Remington D5000 Hair Dryer
It is among the best hair dryer brand in india as if we look at the long run as it keeps your hair glamorous and shiny. With the power of 1876 watt, it can dry the hair very quickly and can be used to style any kind of hair.
It includes essential features like a cool shot button, flexible heat and speed settings, detachable nozzle, which makes it very convenient to use. This ionic hair dryer comes with a warranty of 2 years. This hair dryer can be used in the home, beauty spa, saloon, etc. because of its excellent performance.
Pros
have energy-saving settings
Ionic conditioning type
Flexible heat and speed settings
detachable nozzle
a cool shot button
Cons
A bit costly
if you use it at high mode, then your hair will lose its strength
9. VEGA Blooming Air 1000 Hair Dryer (VHDH-05)
Vega is known for its cosmetic products in India, and hair dryer is one of their best products which are easily affordable. The presence of an AC motor in the dryer speeds up the airflow, which helps to dry the hair quickly. The diffuser gives your hair a curly and wavy look.
It has flexible heat and speed settings, which allow you to use it according to your convenience. The cold shot option and automatic overheat cut out option protect your hair from excessive damage caused by the exposure of hair to extreme heat.
Pros
1800-2000W power supply
Automatic overheat cut out option
cool shot option
foldable handle
Powerful air suction
Cons
Quality of design is not good enough
10. Hana Professional Hair Dryer 2000 Watt
This hair dryer is the perfect choice for you if you are looking for high quality at a cheaper rate. Its powerful suction capacity and shielding technology help to quickly dry out the hair from a distance. This has three heat/speed flexible settings, which make it the best product for the people with short hair.
It is one of the best hair dryers for men in India as it can perfectly style your hair within 2-3 minutes, depending on the length of your hair. The 2.8m long cable allows you to move freely while drying your hair, and it comes with a 2-year warranty.
Pros
Well designed for secure handling
Makes less noise
Three heat/speed settings
patented heat shielding technology
Suitable for both men and women
Buying Guide of Hair Dryers
Your hair is a very delicate part of your body, which requires care and constant nurturing. When it comes to buying a product for your hair, you should do thorough research to know whether it is safe to apply to your hair. The same goes for the hair dryer. You should choose one of the best hair dryers in India 2021, which will reduce the chances of hair damage and dry scalp.
There are many features that you should look for in a hair dryer that includes power, heating technology, power, and many other factors. You will never want to gamble with your hair dryer choice as you can end up with a lower quality product, which will damage your hair severely. We have discussed some of the factors you should consider before choosing the best hair dryer brand in India.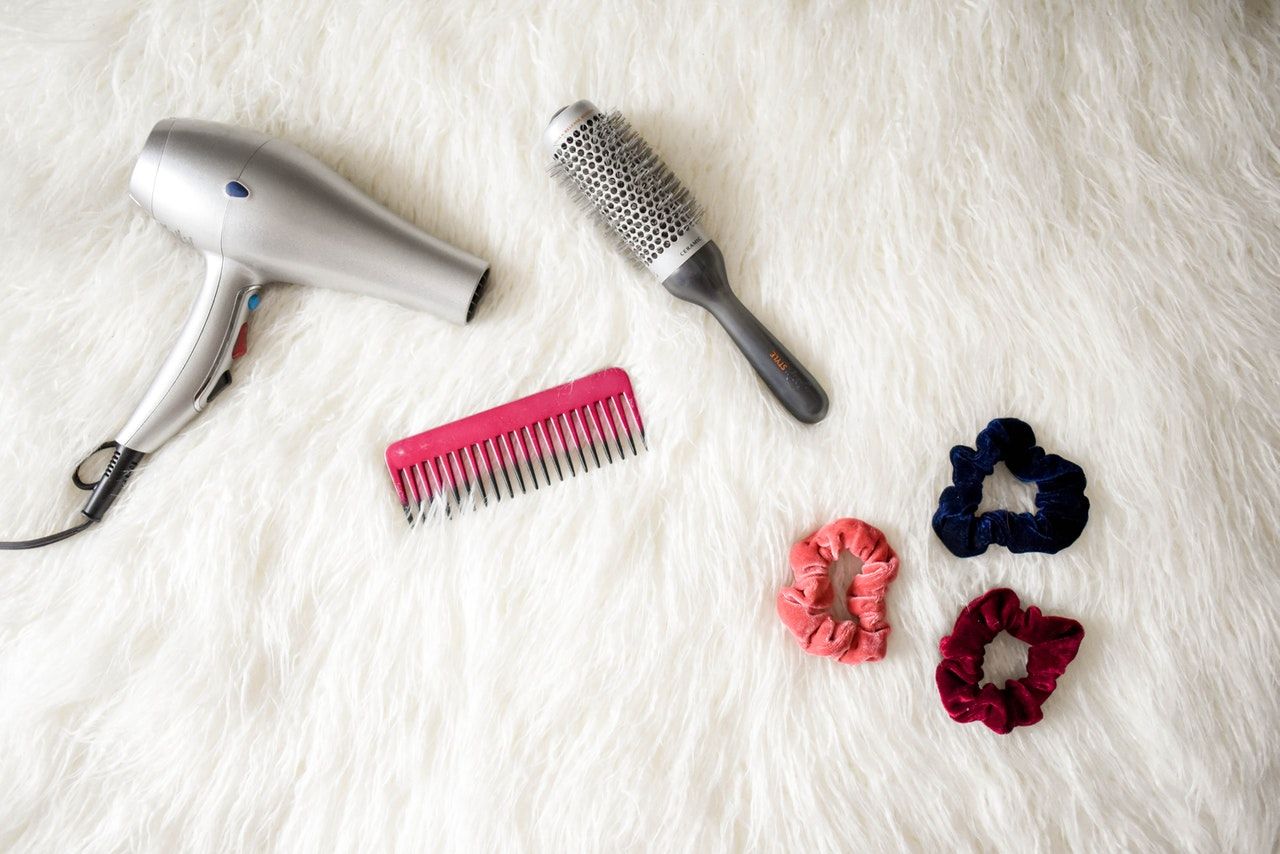 Power
Power is one of the significant factors that you should consider while buying a hair dryer. Generally, you should choose a hair dryer that has higher wattage as it can help to dry or style your hair fast. This prevents your hair from getting damaged because your hair will be less exposed to excessive heat.
The power requirement of the hair dryer varies with the type of hair you are using it on. For thin hair, 1400W is enough to dry out the hair without any damage. But for thick hairs, it is recommended that you get 1800-2000W dryer.
Heat Settings
Heat setting is another important factor that you should look for in a hairdryer. Look for the one which has at least three heat setting, i.e., high, medium, and low. Nowadays, advanced dryers are out there in the market, which has adjustable heat settings. This is best suited for people with thin and fine hair as it absorbs heat quickly. With flexible heat setting options, you can adjust the temperature as per your requirement.
Size and Weight
As you know, hair styling is itself a tedious job, and you don't want to add further problems to it. Although heavy hair dryers come with a heavy and powerful motor that makes them faster, it will act as a burden to your arm. It is always better to choose a lighter hair dryer as it would be easy to handle and store.
Motor
The performance, durability, efficiency, all these depend on the quality of the motor of the hair dryer. The higher wattage motor provides a sufficient amount of pressure and heat to ease the hair drying. You should look for a high torque AC motor as they are perfectly capable of blowing air through your hair.
Technology
The latest models of hair dryers available in the market use the new technologies, which make it easier to dry and style your hair. These hairs are light weighted and easy to use compared to the older versions.
Filters
Filters are used in the hair dryers to protect the motors making it more durable, and most of the dryers available in Indian markets have filters in them. Over time the filter gathers lint, dust, hair, so it has to be cleaned regularly to maintain the performance. Decreases airflow and increase in heat temperature is an indication that you have to clean the filter.
Cool Shot Option
This feature blows cold air once you are done with drying. It helps to preserve the shine of the hair and reduces the damage caused by the heat.
Cost and Warranty Period
Hair dryers are available in the market in a wide range, starting from few hundreds to thousands of rupees. You can make a choice according to your budget. But make sure that you choose a product that has a warranty period of up to 1-2 years. This will help you to guess the durability of the product, and if the device gets damaged within this warranty period, then you can get it repaired or replaced without paying any extra charges.
Types of Hair Dryers
On the basis of the metal used, the har dryers can be divided into four types, namely Ionic Hair Dryer, Ceramic Hair Dryer, Tourmaline Hair Dryer, and Titanium Hair Dryer. Each of them is described below briefly.
Ionic dryers dry out the hair really fast as it uses a negatively charged ion to break down water molecules without opening the pores of the hair and hence do not damage the hair. These hair dryers are best suited for thick and frizzy hairs as it neutralizes the positively charged ions in the hair, which indeed reduces the frizz.
But if you have a thin or small hair then refrain from using the ionic dryer as it will dry out your scalp and damage your hair. They are comparatively costlier than other hair dryers.
These dryers are coated with ceramic or porcelain material, which provides even heating to the hair so that the hair is not damaged. The infrared heat emitted from the dryer penetrates through your hair, locking the moisture.
The ceramic hair dryer can vary the heat according to the room temperature, which reduces the drying time and protects the hair from damage. These are perfect for dry hair as its mechanism prevents the hair dehydration. With a mild temperature setting, you can style any type of hair.
Tourmaline Hair Dryer is faster and more efficient than the ionic and ceramic hair dryer as it uses both negatively charged ions and infrared heat. This type of hair dryer works on pyroelectric and piezoelectric properties, i.e., when force is applied on tourmaline, electric charge is generated.
The tourmaline hair dryer is almost 50% more efficient in drying hair as compared to the ionic and ceramic hair dryer. So, do not buy it if you are planning to use it in thin, dry hair. Since it has excellent features, it is very costly.
This is the lightest type of hair dryer which is available in the market. In this dryer, the heating element comprises titanium metal. This hairdryer is much faster as compared to other hair dryers. So you should not use this dryer on thin hair because the temperature of the heat generated will damage the scalp causing hair fall. These are only suitable for long and thick hairs.
Conclusion
There are a wide variety of hairdryers available in the market for all hair types. Selecting the product with an unbeatable feature is in your hand, and making a wrong decision will leave you frustrated. It is your responsibility to choose the hairdryer, which is among the best hair dryers in India 2021.
Check This:- Best Budget Webcam For Windows 10